---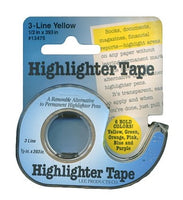 Uh oh, do you love your books too much to actually use them?
Introducing a removable alternative to highlighter markers: Highlighter Tape! Focus on selected bots of text from printed patterns, books, magazines and more - all without leaving a permanent mark. Available in 6 attention-getting colors.
Tape dimensions:1/2" x 393"