---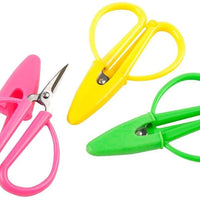 These little cuties are a must-have for all fiber crafts. They are miniature sized, high quality scissors that are fun and safe, and the perfect size for your notions case, knitting bag, or crochet bag. 
Get a pair for each project bag so you are never without.
Portable and Mini: portable scissors are approx. 2.56 x 1.65 inches, small and compact in size, convenient for you to store in a crafting bag, knitting bag, and then carry to craft rooms, resorts, hotels and other places

Protective Cover: scissors with cover are pointed enough for your paper cutting, yarn, fabric cutting and so on, and they are designed with protective covers, improving your safety by preventing you from being poked when not in use, also safe for your bag storage

Multi Functional: yarn scissors are suitable for lots of scenes, such as travelling, hiking, home, school, office, and they are available for craft projects, embroidery, fabric, thread end cutting, making your needlework and knitting work more convenient

Serviceable and Reliable: made of stainless steel, plastic and silicone, our tiny scissors are sturdy and strong, hard to break, deform or bend, resistant to corrosion or rust, with a long service life to support you
Specify your color choice when placing order and we will make every attempt to accommodate your wishes.